Our Pastor is the Rev. Benjamin P. Glaser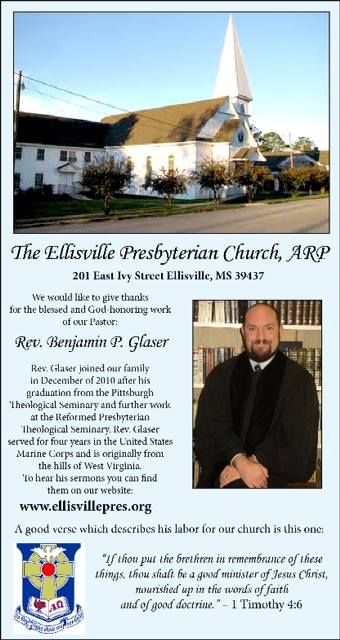 Rev. Glaser and his wife Brandy met while they both played college soccer at Shawnee State University in Portsmouth, Ohio. They are the proud parents of two girls, two boys, and a dog named Lucy.
He is a 2009 graduate of Pittsburgh Theological Seminary and also completed some classes at the Reformed Presbyterian Theological Seminary. Rev. Glaser was then ordained by the Northeast Presbytery of the Associate Reformed Presbyterian Church and joined our church family in November of 2010. He serves the denomination as a member of the board of Christian Education Ministries.
Rev. Glaser was born and raised in the mountains of West Virginia and served on active duty in the United State Marine Corps from 1998-2002 and attended the University of Pittsburgh, graduating in 2005. He enjoys hunting, fishing, and is an avid reader. He also is a fan of the Pittsburgh Pirates and follows Marshall University sports, a conference foe of the Southern Miss Golden Eagles.
You can read the monthly church newsletter at this link.